Bio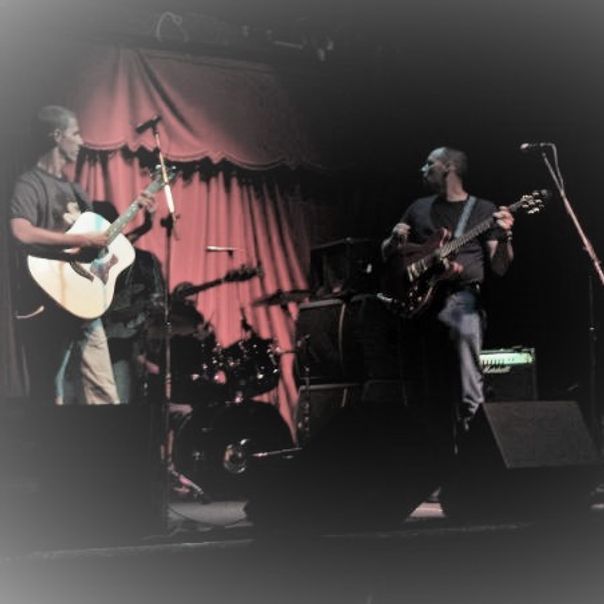 Matthew Shadley Band
Guitar-driven, Alt Country, Blues-Rock, Jazz, AOR, and so much more....
Matthew Shadley Brauer began playing guitar and bass for several Cincinnati-area bands in the late-90s and early-00s. In 2003, Matt joined fellow guitarist and former college bandmate Jason Scherrer with a temporary rhythm section to form the Matthew Shadley Band. The band made its debut in October of 2003, playing an acoustic set at the 5th Annual Harvest Moon Festival held at the historic Southgate House in Newport, Kentucky.
Shortly thereafter, Brauer and Scherrer added a more permanent rhythm section while Brauer moved to lead guitar and lead vocals. With Chuck Morgan on drums, Jason Peter on keyboards, and Tom Legg on bass, the band evolved from folk-rock to a more melodic, electric guitar-driven, alt-rock sound. The band drew comparisons to music as wide-ranging as The Beatles, Buffalo Springfield, The Jayhawks, Black Crowes, Traffic, and The Wallflowers. 
After the 2004 release of "Five Easy Pieces," the band maintained a busy schedule headlining venues and playing regionally through 2004 and 2005 with Steve Tertel replacing Tom Legg on bass. The band recorded "Underneath the Red Light," a live album at the House of Blues Madison Theatre in January 2005. They earned a reputation as "Cincinnati's live show specialists," and continued to reach a growing audience through broadcast and internet radio while playing larger venues and showcases, including the Midpoint Music Festival, the Roots and Rock Festival, 80's Pop Rocks, and the Festivus Maximus Festival.  
The band slowed down its live schedule and continued working in the studio through 2006 with Brauer handling bass duties following Tertel's departure. The band went on hiatus later that year, while Brauer joined local rockers The Trojan Rabbit. He returned to the studio with additional material and completed the full-length album "Summer Stone" in 2008.
After a long hiatus, Brauer returned to the studio in 2020 during the nationwide COVID-19 Quarantine, writing and recording new music as part of the Quarantune Project with other Cincinnati-based musicians. In 2021 he released the single "Oh, Karen," which was written during the Quarantune sessions. 
The work has since continued with the skills of notable session musicians (Kenny Aronoff, Norm Garschke, Luke Oswald, Stefan Olafsson) and former bandmates (Jason Peter, Anthony Rich, Chris Rowell), as well as two of Matt's daughters (Maggie and Lorelei). From his studio on the Outer Banks of North Carolina, Brauer has put together the Matthew Shadley Band's first recorded album in 14 years. The new album, "Emerald," is now in post-production and scheduled for release this Summer. 
Most of the band's recorded work can be found at www.matthewshadleyband.com and most streaming platforms (Spotify, Apple Music, i-Tunes, Deezer, Pandora, and YouTube...just to name a few). 
Press / Reviews
"Harmony-laden, acoustic-based Pop/Rock that takes its cue from The Beatles, The Jayhawks and Buffalo Springfield, the five-song Five Easy Pieces is the first release from the group, which is fronted by Matthew Shadley Brauer, formerly of Staring at the Sea."  Mike Breen - CityBeat Magazine
"This is the gem I'm always looking for, but rarely find. I was not disappointed Saturday evening at RBC...a little Black Crowes swagger and some of the sweetest flow and rhythm since Traffic!"   Cincymusic.com 
"They play it pretty loose, but it really works for them. The MSB are good."  Juliana Salinas-Jump - Randomville.com
"These guys remind me of the Wallflowers and have that sort of straight-up-rock-on-the-verge-of-being-country sound."  Jason Jump" - Randomville.com
 "Cincinnati's live show specialists"  Jan Perry - Cincinnati Post
Photos